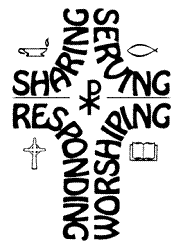 "Come to me,
all you who are weary and burdened,
and I will give you rest."
-Matthew 11:28
When Jesus spoke these words, there were no exceptions to his invitation. To people of all ages, races, genders, and nationalities, to the rich, the poor, the strong, the weak, to those firm in their faith and to those who are searching, questioning and doubting, Jesus just said, "Come".
At Geneva we want to reflect that reality, so you will find children as an integral part of our church's life. You will find that we actively seek to be a church that sets up no barriers, but one with opportunities for growth in the Christian faith appropriate for all levels of spiritual maturity. You will find worship that combines time-honored traditions with fresh, new ways of expressing the Christian faith. So welcome. Please take some time to look around and get to know us.
Announcements:
Youth Mission Trip:
Watch a video of highlights from our youth mission trip on our Vimeo page!
Mission Pointe reaching out to  those in need. (pdf)
Check out our New Weekly Sermon Video 
Children's Ministry Needs Volunteers
The Children's Ministry Team is already planning for fall! We're beginning to schedule our volunteer leaders and helpers for our two Sundaymorning children's programs starting in September. We're looking to add rotating leaders and helpers for our 11:00 elementary class as well as our (very) young children's worship. Contact Nancy Glodich at NancyGlodich@mac.com or in person at church if you're interested in signing up or hearing more about what being a leader or helper means. 
Scavenger Hunt!
An evening of clues, puzzles, and teamwork! Meet up at the Kellogg Park fountain in downtown Plymouth on Saturday, August 15 at 7:00 pm.Your team will receive a clue packet full of puzzles. Solving the puzzles will lead your team to various locations in downtown Plymouth, where you and your team will complete different challenges. The first team to solve all the puzzles and return to the meeting location (Kumon) will win! We will meet at Kumon by 8:30 pm for prizes and snacks. Invite friends! Sign up at church or call the church office.
Religious Diversity Media Contest for Youth
Create a video message 5 minutes or less that addresses the question of religious diversity and interfaith understanding to be eligible for these awards:  1st place – $500, 2nd place – $300, 3rd place – $200.  All videos must be the original work of a single young person or a group of young people no older than 18 years old. Sponsored by IFLC – InterFaith Leadership Council of Metropolitan Detroit. Video due: October 2nd – see board or talk to a local mission rep for more details!